La poesia di Melinda Smith, come osservato da Whitworth, «it is like some firework of unknown make and provenance, spluttering into incandescent life with more than a hint of danger». Così i paesaggi quotidiani e domestici di queste liriche vengono perturbati da un evento inaspettato che trasforma la calma apparente in incandescenza: un infortunio in Accommodations, un episodio traumatico che sconvolge la tranquillità familiare in A plate of biscuits oppure la scomparsa improvvisa di Mr Ridge nella parodica Diamond Princess. La poesia diventa il luogo privilegiato per lasciare spazio all'imprevisto, strappando la realtà dalla forza dell'abitudine: «In questo ripido canalone / dove un imprevisto mi ha bloccato / ogni roccia coperta di muschio / ogni nodo nella corteccia, ogni / goccia di pioggia / fa infinita differenza».
A cura di Massimiliano Mandorlo
Sistemazioni
Premi su un'estremità
abbastanza a lungo
questa diventa insensibile
In questo ripido canalone
dove un imprevisto mi ha bloccato
ogni roccia coperta di muschio
ogni nodo nella corteccia, ogni
goccia di pioggia
fa infinita differenza
Quale piccola ricca vita.
Alla fine dei crampi
la potrò abbracciare
*
Accommodations
Press upon an extremity long enough
It becomes numb
In this steep-sided gully
where accident has lodged me
each moss-covered rock
each knot in the bark, each
raindrop
makes infinite difference
Such a small rich life. I will embrace it
When the cramping stops
***
Un piatto di biscotti
(una risposta poetica al libro di Jeremy Gavron A Woman on the Edge of Time)
Quella mattina
ti sei svegliata
hai decorato con la glassa i biscotti speciali
li hai messi sul piatto di plastica blu
hai preparato il porridge per tutti
steso i vestiti puliti per me e mio fratello
ci hai pettinato i capelli, lisciato
il mio ricciolo ribelle sulla fronte
ci hai accompagnato a scuola
lui nella sua classe
me alla mia festa d'asilo
hai chiacchierato con la maestra
mentre consegnavamo i biscotti
sei tornata in macchina
hai guidato fino alla casa vuota della tua amica
hai sigillato le porte chiuso le finestre
e ti sei uccisa con il gas.
A sedici anni papà finalmente me lo disse.
L'unica volta che tu sia mai stata
nominata tra di noi.
Pensavano ce l'avessi con te.
Invece no.
Trovai un biglietto da parte tua
anni dopo, a casa della nonna
dopo la sua morte.
Dite ai bambini che li amavo, tremendamente.
Nessuno l'aveva fatto, naturalmente.
*
A plate of biscuits
(a poetic response to Jeremy Gavron's book A Woman on the Edge of Time)
That morning
you arose
iced the special biscuits
placed them on the baby-blue plate
made porridge for us all
laid out clean clothes for my brother and me
combed our hair, oiled down my wayward forehead curl
drove us to the school
dropped him at his classroom
walked me in to my kindergarten class party
chatted to the teacher as we handed over the biscuits
got back in the car
drove to your friend's empty house
taped the doors and windows shut
and gassed yourself.
When I was sixteen Dad finally told me.
It was the only time you were ever
mentioned between us.
People thought I should be angry with you.
I wasn't.
I did find a note from you
years later, at grandma's house
after she died.
Tell the children I did love them, terribly.
Nobody had, of course.
***
The Odd Philosopher's Almanac
(L' Almanacco del filosofo bizzarro)
4 – Sunday 4th January 2015
the hen trembles
at the egg
cracking
4 – Domenica 4 gennaio 2015
la gallina trema
allo spaccarsi
dell'uovo
67 – Sunday 8th March 2015
the idea of the nest
is the size of the sky
67 – Domenica 8 marzo 2015
l'idea del nido
è la dimensione del cielo
163 – Friday 12th June 2015
the one true thing
is a song
in a silence
163 – Venerdi 12 giugno 2015
l'unica verità
è una canzone
in un silenzio
237 – Tuesday 25th August 2015
tears too
can bloom
and multiply
237 – Martedi 25 agosto 2015
anche le lacrime
possono fiorire
e moltiplicarsi
280 – Wednesday 7th October 2015
justice is made of straight lines
mercy is made of leaves
280 – Mercoledi 7 ottobre 2015
la giustizia è fatta di linee rette
la misericordia di foglie
290 – Saturday 17th October 2015
broken moorings
ache
for their drifted ships
290 – Sabato 17 ottobre 2015
ormeggi spezzati
dolore
per le loro navi alla deriva
299 – Monday 26th October
a gap
is a happiness:
fill
the crack in the cup
with gold
299 – Lunedì 26 ottobre
un vuoto
è una gioia:
riempi
la crepa nella tazza
d'oro
***
Diamond Princess
Giù al molo un'immensità ondeggia e brilla:
quasi un centro commerciale sull'acqua, dodici piani fino [in cima,
festoni di bandierine ghignanti con dentini affilati
che sbattono nel vento. Una nave così bianca
in questo giorno luminoso. Come tutti i viaggi, questo [inizia
con un ponte da attraversare, una porta in cui passare. [Alcuni entrano
per non tornare mai più: tribù di astuti nomadi grigi che,
dopo aver tirato le somme, preferiscono la loro Casa di [Riposo
con una scelta di cinque sale da pranzo e cabaret notturno.
Imbarcati, passano in paradiso: tutto e tutti
immacolati, ogni ora con la propria assegnata frivolezza,
un buffet girevole di nuove orecchie per vecchie storie,
ed il mare che spinge il passato infinito
come il magico fondale di un'opera. Poco importa
che di tanto in tanto il viaggio a Vanuatu
debba deviare verso Melbourne per evitare un ciclone,
o che a volte ci sia un altro cambio di rotta,
come quella volta in cui rifecero il giro
per cercare il signor Ridge che sbarcò improvvisamente in [mezzo
al mar di Tasman, senza avviso. Su ogni crociera, dicono,
la media di nuove bare riempite è sette.
*
Diamond Princess
Down at the Quay an enormity bobs and glows:
a waterborne not-quite Mall, twelve decks bottom to top,
festoons of bunting grinning with sharp little teeth
that snap in the breeze. So much white ship
on this bright day. Like all journeys, this one begins
as a bridge you cross, as a door you step through. Some [enter
never to return: tribes of canny grey nomads
who, having done their sums, prefer their Residential [Aged Care
with a choice of five dining rooms and a nightly cabaret.
Boarding, they pass into paradise: everything and [everyone
spotless, each hour with its allotted frivolity,
a revolving smorgasbord of new ears for old stories,
and the sea trundling edgelessly past
like a magical opera backdrop. Small matter
that occasionally the trip to Vanuatu
must detour to Melbourne to avoid a cyclone,
or that sometimes there is another kind
of course-change, like the time they circled back
in search of Mr Ridge, who disembarked suddenly
mid-Tasman, leaving no note. On each cruise, they say,
the average number of newly-filled coffins is seven.
Immagine: Daniel Buren, Photo-souvenir: On the waterfront: 16.150 flames, 2005.
Poeti australiani contemporanei /1: Nathan Shepherdson
Poeti autraliani contemporanei /2: Matt Hetherington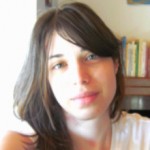 Maria Borio è nata nel 1985 a Perugia. È dottore di ricerca in letteratura italiana contemporanea. Ha pubblicato le raccolte Vite unite ("XII Quaderno italiano di poesia contemporanea", Marcos y Marcos, 2015), L'altro limite (Pordenonelegge-Lietocolle, Pordenone-Faloppio, 2017) e Trasparenza (Interlinea, 2019). Ha scritto le monografie Satura. Da Montale alla lirica contemporanea (Serra, 2013) e Poetiche e individui. La poesia italiana dal 1970 al 2000 (Marsilio, 2018).